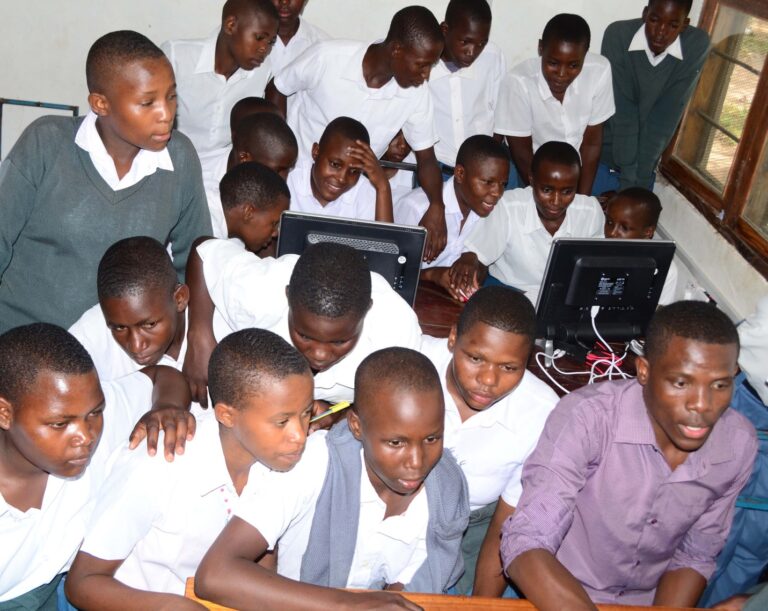 Powering Potential is pleased to announce that the Rigicha Secondary School in Tanzania's Serengeti District is the latest recipient of a SPARC solar-powered computer lab, with installation completed in May.
The SPARC (Solar Powered Access to Raspberry Computing) program consists of five Raspberry Pi user computers, three servers, a 300-watt solar energy system and training. The computer lab is equipped with offline digital educational content and the Tanzanian digitized secondary school curriculum. Content includes Wikipedia articles, Khan Academy videos, medical reference books, e-books of world literature from Project Gutenberg and other materials.
Solar energy is employed because it is reliable and green, with negligible running costs. Raspberry Pi computers are specially designed to withstand heat, humidity and dust. They use low energy, which makes them the best choice for solar. They are also powered by open source software.
In 2014, the Rigicha Secondary School received its first computer installation with the arrival of a Pi-oneer, an innovative teaching tool consisting of a Pi computer with offline educational content that includes math and science videos, a mobile projector, a projection screen, and a solar recharging unit. 
Powering Potential remains deeply grateful to Mr. Sabasaba Moshingi and Tanzania Postal Bank for getting us started at Rigicha with a grant in 2014.
SPARC is an important step forward for the school, which currently welcomes 541 students and 14 teachers. The students are so pleased and grateful for the advent of SPARC.
An informal poll of students indicated that they have big plans for utilizing the computer training that they received. Esther said she'd like to go on to teach others how to use computers. Amina wants to be a doctor. Ester wants to be a pharmacist. Mashaur is focused on becoming a journalist. Janeth wants a career in nursing. Bhoke wants to be a lawyer. Others mentioned careers in teaching, science, and technology. They all felt strongly that learning to use computers will help them achieve educational goals and obtain good jobs. And a number said that learning computers will help them to achieve their dreams.
When was the last time that you helped someone achieve his or her dream? Isn't it wonderful to know that you are doing so when you make a gift to Powering Potential? Please donate today, and help to make a student's dream come true! Thank you!
As we celebrate our 15th anniversary, we look forward to our next implementation. SoitSambu School is slated to receive a SPARC+ computer lab, the phase that follows SPARC. SPARC+ includes a total of 20 computers for students and teachers. Onward and upward, as we say at Powering Potential!